Print Series: the Double Bind Prints
Double Bind | Statement | Influences | Process | Plates | Definitions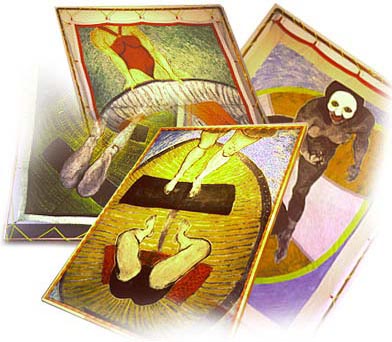 Desire

The series begins with a single figure...me, myself and the interchangeable "I". For more information see statement, definitions or process.

Content

My initial desire was to create a series of work that depicted a whole body; one that integrated the male and female or dualistic aspects of myself.

Process

After the decision to use my own body, once again, the next step in the process was to trace myself, re-drew the intial pencil tracings, and then to create a sense of volume in the forms using the process of painting thin layers of acrylic medium onto prepared matteboard plates.

Product

The four prints in this series make up the components of a bed;
1) a foam mattress,
2) cotton sheets
3) wool blankets and
4) the dream canvas

They were exhibited by sewing borders on them along with red tabs with small metal half circles, then tied onto frames of copper tubing.
Exhibition Photos
Double Bind was exhibited in Edmonton, Saskatoon, Winnipeg, Thunder Bay, Toronto, and Halifax.
This series has been donated to the Brandon University Fine Art Collection and is regularly shown in the Fine Arts classroom area and library.
A project funded by the Manitoba Arts Council, the Double Bind series was printed at the Manitoba Printmakers Association in 1989, sewn together in 1990 and exhibited after 1991.
A Synopsis:
The Double Bind is a series of large screen collograph prints which began as a means of exploring identity and wholeness. As the creative process and content unfolded, a metaphysical journey resulted, leading towards a greater understanding of the meaning of "Self" and the world.
Overviews: BFA - H | BFA-MFA -V | MFA - H | 1989 - 2019 - V | 1989 - 2019 - H
Created by Gisele Beaupre©