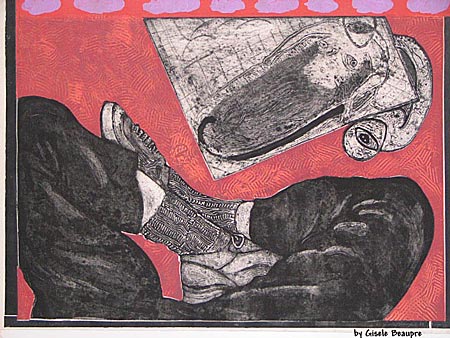 Photo and print by Gisele Beaupre
The Relief series references the perspective of the one-eyed woman, created ten years earlier; whereby the viewer sees the female from inside the body form, as if looking through the woman's eyes. The viewer, the object viewed and the artist who created the image become one Seer.
The seer is and was considered to be the creator in my work. I believe there to be hope in the world if we know and realize this. However, the force of creation is very powerful, which is why self-knowledge is essential.
Edition: 1 out of 4 Images
Back to the Multiple View Series
Title: Laptop
Medium: Color Screen Collograph using cut plate method.
Printed on Arches paper
Printed at the North Nassau Studio, Wpg., MB. by Gisele Beaupre
Date: 1989
Size = 30 x 40"