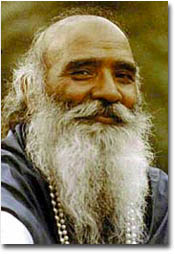 Swami Shyam
Photographer unknown
Note: As much as I appreciate the teachings, presence and generosity of Swami Shyam, I think he has hurt everyone by indulging in the abuse of and cultivation of his absolute power. Those who accuse should also follow through with charges otherwise they are contributing to the problem, along with those who continue to support Swami Shyam. I have benefited from his teachings and from meeting him but I do not condone his alleged behavior.
Gisele Beaupre.
For more information please read the letters found to the right of this text.
Note: Swami Shyam is a cousin of the well known TM movement leader, Maharishi Mahesh Yogi. Swami Shyam supposedly chose to have a small following so he could do in-depth teaching with them rather than having a large world scale following.
Note: This statement was made prior to Kevin's knowledge of what was really happening behind closed doors at Swami Shyam's quarters in India.

Original Text By Kevin Harbour (Indrajaali) (Transcript from Gisele's farewell, 1994)
"Swamiji is an inspiration for all of us here, and that is one of the main reasons that Gisele has come to India at this time.
By inspiration, I mean Swamiji, that one who can help us become that which we have wanted to be. We are all here because we had some vision, maybe partial or full, that there is more to reality than what society has told us.
Swamiji is a being who has actualized all possibilities. He has lived the life of a householder and has raised five children, along with his wife Hariji, and they are still with him. He has worked, he has travelled, he has met many, many people, and has led a very full life, on all possible levels.
Throughout his life, he had the vision that human beings are essentially divine, and that it is possible to bring that divinity out of them. Thus, it has been our great joy to be with him, both to see who he is and to see who we are."
Marut's synopsis on the Shyam scandal
Visit Pramod's website: www.swamishyam.com
Swami Shyam's website