The Icon Show is a documentary of my first trip to meet Swami Shyam in India in 1994. This work was exhibited at the Main Access Gallery, Artspace, Winnipeg, Manitoba in a group show called, "Icons: Manifestations of our Time", curated by Yvonne Zarnowski. In keeping with the title of the show, I presented Swami Shyam, as an icon; a symbol of a living saint, a mentor for all of humanity.
In 1990, I met my second cousin, Kevin Harmer, who had returned to Canada after studying with Swami Shyam in India for 10 years. Through Kevin I became interested in Swami Shyam's teachings and writings. I became aware that I already was quite engaged in the science of yoga. So Kevin taught me how to meditate and told me more about the philosophy of Swami Shyam. Generally his teaching are classically known as Vedant, or Raj Yog. The premise of Raj Yog is, through Meditation it is possible for human beings to unfold the knowledge of their divine essence.
When the eyes are closed and the body is quieted, the "I" which is perceiving, is the 'Witness Self', or God - in it's formless aspect, which is extremely subtle. In the science of the Self, the subtle is actually the most powerful. Western Science has many names for this subtlest existence, such as universal energy, the intelligence of nature and so on. As a Self-realized being, Swami Shyam has realized this oneness with the universal being and in realizing this, he has become that.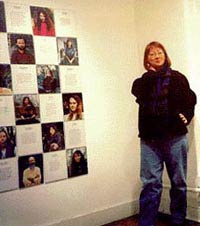 Gisele standing in front of the interview wall
(Year 2000) Unfortuneately my search for truth has encompassed both the good and the bad: the Scandal but there are still lots of gems and jewels of knowledge within this site and the teachings in general.
After conducting my own research; by meditating, and reading about a variety of related subjects such as quantum physics, as well as the philosophy of Swami Shyam, I began to understand and value what he was saying. I appreciated how he taught with humour, compassion, integrity, and with the sharpest intellect I have ever witnessed. I became more and more impressed with Swami Shyam and felt very compelled to meet him myself. Three years after meeting Kevin, I went to India.
In preparation for the journey, I wrote Swami Shyam a letter introducing myself and my art, and asked for his permission to attend his ashram, who sent word through Kevin that I could come. My first personal interaction with Swami Shyam took place in his chalet. I brought him a big bouquet of flowers and a shopping bag of small gifts from Canada. He was very friendly and told me stories of his younger days when he was a visual artist. Swamiji is a very dynamic and talented person. He has had a very full and interesting life. He is a well-known poet and songwriter, of over 2,000 devotional songs, a former journalist, a husband and father of five children, and has taught thousands of people about Meditation and the truth of our subtlest existence for over twenty five years. He is the most fascinating person I had ever met or seen in this entire world.
It was so fulfilling and refreshing to hear Swamiji speak every day. It was also great to sit with the two hundred easygoing, friendly, intelligent devotees, who are dedicated to unfolding the highest knowledge in themselves. I loved all of their stories, the singing, the meditating, and the Patanjali classes I took. In order to remember and celebrate this experience, I decided to create the Interview Project.
I wrote Swami Shyam, and received his blessings, then proceeded to interview the people represented in this book. The selection was based on friendship, attraction, frequent interactions or simply whoever was serendipitously available. When I returned from India the opportunity to exhibit this project came up right away in the Icon show. The show opened at the end of January in 1995.