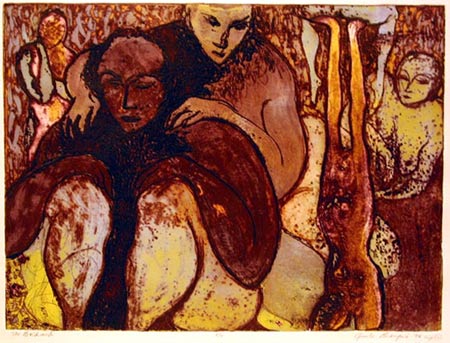 Photo and print by Gisele Beaupre
Artist's Comments:
The images I created at this time were very fluid, in an attempt to blend my approach to drawing with the print medium. I enjoyed the viscosity printing process as a means to explore colour. There was also a strong element of the 'happy accident', and printing unique monoprints, which interested me at the time.
On a personal note, the content of this piece stems from family roots; and the tension between caring for oneself and others.
Back to the Thesis Series (lovers)
Title: The Back Rub
Medium: Lithograph
Printed on Arches paper at the University of Windsor, Windsor, Ontario, Canada by Gisele
Date: 1985-86
Size = 22 x 30"
Edition: 1 out of 4