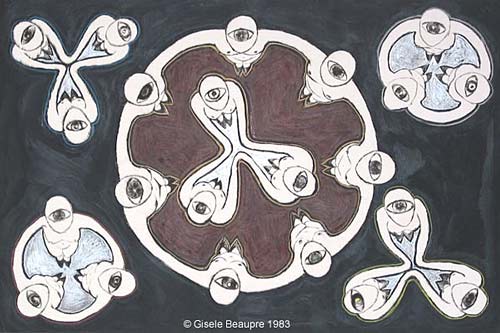 Photo and print by Gisele Beaupre
In the pursuit of a unique vision, I had a glimpse into the unity of All that is and I became very focussed on this one-eyed theme. I was told not to pursue this mode of expression. I intuitively ignored the warning due to its cosmic significance to me. It did hurt my career but in hindsight it was insignificant to the satisfaction of truly knowing and understanding my self and the world in an expanded context.
Printed at the North Nassau Studio, Wpg., MB. by Gisele Beaupre

Title: Piece of the Pie
Medium: etching, with acrylic and pencil crayons
Printed on Arches paper
Date: 1984
Size = 18 x 24"
Edition: 1 out of 10
Price = $200
ID# GIB-023